<![if !vml]>

<![endif]> Vintage Station Page

Updated 12-2-2006 (Scroll down for more pictures and links)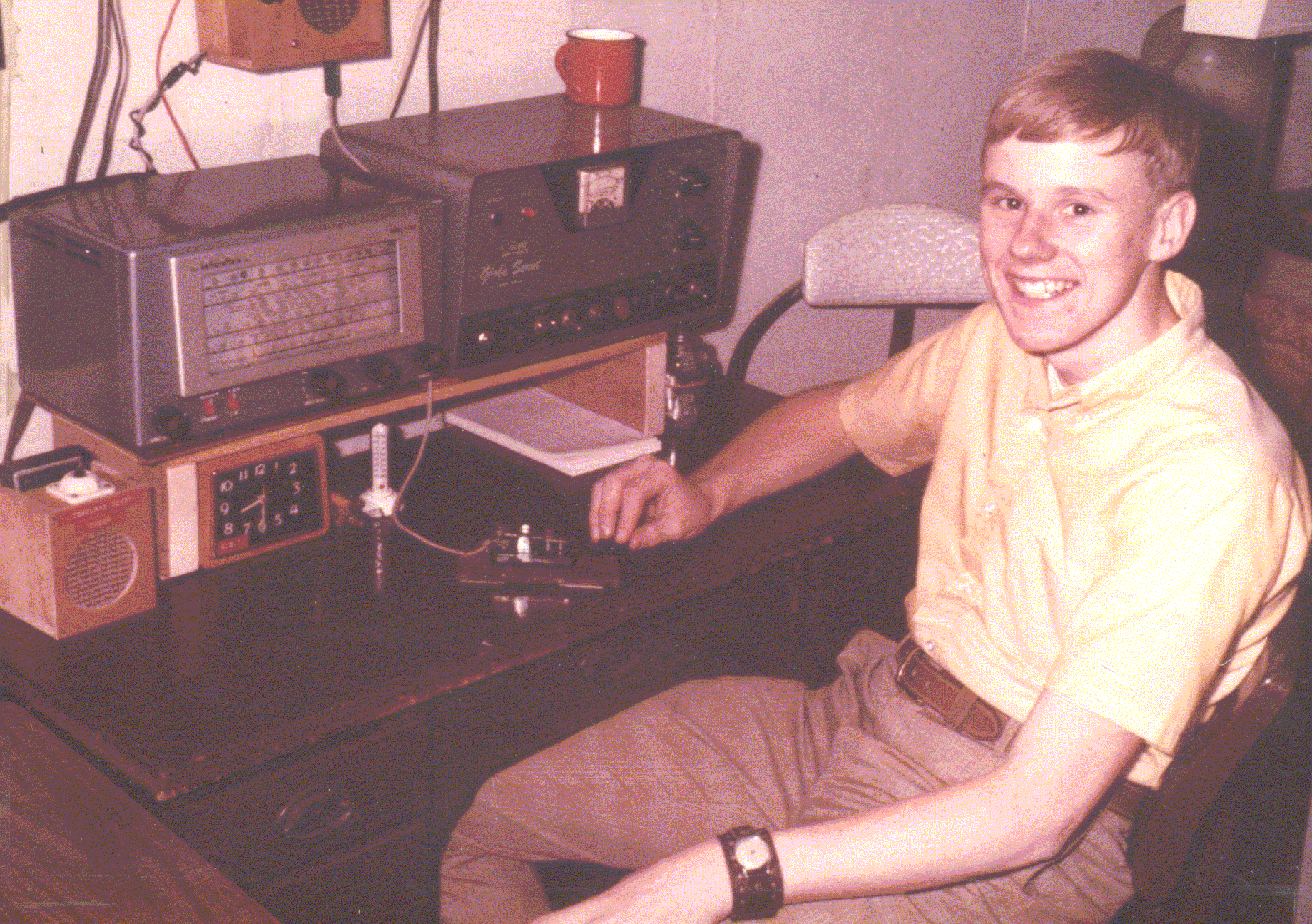 I would love to re-live yesteryear by putting together a station like I had back in 1970. That station consisted of a Globe Scout and a National NC-173 receiver. I bought the Globe Scout from my neighbor, Tom / WB9DFR after his parents put the kabosh on his Novice activity if it was going to include putting up outside antennas. I can't remember where I picked up the NC-173 but what a nice Novice receiver. General Coverage with calibrated bandspread for all bands except 15 meters, I made a lot of contacts with that rig!
Later, I owned and used a Hammarlund HQ-170 as a receiver next to my HW-100 that I had acquired from Alan / WB9BQB. I loved the sound and feel of the HQ-170. I had it all setup to run QSK. What a great receiver!.
Fast forward to present day... Thanks to eBay, you can browse and bid for the vintage gear that you want. That is - until WB6ACU, the rich-and-famous rock-and-roll guitar player Joe Walsh, wants to bid against you ;-)
Anyway. I have been able to acquire a few new/old toys and actually put them on the air. I found a a Knight T-60 that I picked up at the Indianapolis Hamfest. I got the Heath VF-1 VFO hooked to it and it works pretty well.
I acquired a Heathkit HD-10 keyer on ebay. It works fine, but... the paddle assembly is a little sloppy so I apologize for some 'less-than-perfect CW when I'm using it. Click Here for a funny HD-10 'up in smoke' story.
At the Findlay Ohio Hamfest in September 2004 I managed to acquire a nice Knight T-150 AM/CW transmitter. This is the 'big-brother' to the T-60. It has a pair of 6146 finals and a built-in VFO. It only took 4 blown fuses before I tracked down the shorted electrolytics. All capacitor replacements and mods were made under the chassis with the defective 2 section can left in place for cosmetics.
In March 2005 I acquired a Hammarlund HQ-170A in a great deal on ebay. The receiver worked pretty well but needed some cosmetic cleanup and polish work. It cleaned up real well and has been put into service. What a great sound and how nice is that big Vernier Tuning dial! I was fooled by the clock - it is NOT the original Telechron but rather a modern battery operated quartz clock that looks OK.
In early 2006 I found a great deal on a Heath Apache (Model TX-1) transmitter. This is quite different than the light, inexpensive Knight transmitters. I believe the official shipping weight of the Apache is 107 pounds - I don't doubt it. We drove to Detroit to pick it up because shipping is difficult, expensive, and risky. This is a plate modulated AM and CW transmitter. The audio is a little 'thin' and it is affectionately know as the "scratchy Apache." It is a beautiful looking transmitter with a very complicated series of levers and switches to do band-switching.
In September '06 a former co-worker (KB9GVH) dropped of a Hallicrafters SX-100 that appears to be in good shape. Just dirty and dusty. Another winter project.
These old rigs present a challenge for electronic keyers so I use and recommend a Keyall HV keying adaptor from Jackson Harbor Press.
I have acquired a 2 Globe Scouts and will be working on them during the winter months. Till then, I will be switching different transmitters and receivers in and out. Yes, maybe a little soft, chirpy, wobbly, drifty, clicky, etc - but also lots of fun. The process of hearing a CQ, spotting the VFO, tuning the transmitter, and answering before the CQ station answers another call or QSYs to another frequency is a real challenge from yesteryear.
Current Vintage Station
Heathkit TX-1 Apache 100w CW/Plate Modulated AM,
MFJ949D Tuner, Hammarlund HQ170A Rx, Japanese 'Coffin Bug' by High Mound,
MFJ/Bencher Keyer Paddle
Click Here for Hi Res.

WN9DLC in 1970
I only made a few contacts with that hideous
S-38D Hallicrafters receiver. I've never wanted to own Hallicrafters since! I know that's unfair to Hallicrafters. I heard they also made some good receivers.

Vibroplex SN 149770
Manufactured in 1946. Very different from using a paddle and keyer.
Click Here for Larger Image

Japanese Bug
Picked up at Dayton 2005 for $7.00
Early 60's - Made by High Mound
Bakelite base with plastic dust cover.
Works very well! Click here for more

Hard to Find Connector
I bought a large selection of these. They are can be used to plug a VFO into a crystal socket. Contact me if you need a couple.


VFO Adaptor
If you can't find the small, flat, twinlead type connectors, a NON-HAM-FREQUENCY crystal can be used to become an adaptor

T/R Switch 1
Homebrew - Switches antenna and provides a couple of isolated 12 volt relay contacts to mute receiver and enable transmitter.

T/R Switch 2
Has locking switch on front panel with 'On Air' LED. Also provides connection for footswitch for fast, hands-free PTT operation.

T/R Switch 3
Built into junk modem box picked up for $1. Had on/off sw., fuse-holder, LED., etc.
Replaces B&W 381 TR Switch.

Globe Scout Project
Some Cobbled-up wiring and mods but this Scout can be saved. Fortunately, I have a complete manual/assembly guide.

Scout Tank Circuit
Somewhat cobbled-up tank circuit. Not sure what someone was trying to do.

Scout Chassis
These were available factory wired or as a kit. Mine was a kit. Soldering was not to factory standards.

Keyall
Cathode keying got you down? Get a Keyall Kit to key that High Voltage without destroying your keyer. Jackson Harbor Kits

Keyall
I built it into the Altoids Tin so that I can open the lid and let it cool down when I am running fast CW. (No, I'm not serious)

Keyall
MOSFETS, Photo-Isolator, board, small parts. Just add batteries and connectors.

<![if !vml]><![endif]>

Knight T-150
Picked this up at Findlay Hamfest
Very nice - 1st QSO - F3VT on 40m CW
Click Here for Larger Image

Heath HD-10 Keyer
This was pretty grungy when i got it. Could use some more cleaning. Pretty sloppy compared to a Bencher Paddle but, it is VINTAGE - HI HI
(Currently used as a 'backup keyer')
Funny HD-10 'up in smoke' story